WHAT IS MODERN WOOD HEAT?
WHAT IS MODERN WOOD HEAT?
Modern wood heat relies on wood pellets and wood chips to efficiently heat homes and businesses. Declare independence from oil by investing in this cost-stable, locally sourced heating source.
By repurposing all-natural lumber byproducts for fuel, we're protecting our environment by sourcing from sustainable forest management projects that are replenished by renewed forest growth. Modern wood heat provides people across the Northeast with an environmentally friendly, clean-burning heating solution.
Explore the benefits that make modern wood heat the sustainable choice, helping keep forests as forests so we can all enjoy the Northeast's natural splendor for generations to come.
Benefits of Modern Wood Heat
In winter 2022, wood heat was cheaper on a per-BTU basis than all other heating fuels. Wood fuel prices are also less volatile, meaning that prices won't fluctuate rapidly from day to day. For example, from January 2020 to July 2022, the cost of wood pellets increased 17% compared to 104% and 166% for oil and natural gas respectively (NYS data). Fossil fuel heat commits you to decades of unstable heating bills. Switching to modern wood heat means fuel cost savings and price predictability from year to year.
Carbon dioxide emissions are a major contributor to climate change. By switching from oil or natural gas to wood pellets burned in a high-efficiency wood heat system, you can decrease your greenhouse gas emissions by 54% to 59% and reduce your carbon footprint. When it comes to particulate emissions, modern wood heat technology meets all state and federal standards (less than dusty dirt roads!).

Wood heat is choice that feels good. Of course it gives you heat, but it also gives you confidence that you are making a good choice for your family, community and environment.
Consider the difference in materials you use to heat your home. An oil, propane or gas leak is always a cause for extreme concern, toxic and dangerous to the health and wellbeing of anyone who comes into contact with it. Wood fuels you can handle with your hands!
Automated wood pellet boilers and furnaces are also a more convenient, bagless option that operate like an oil, gas or propane system – except with all the benefits that renewable, locally sourced wood heat provides. Wood boilers and furnaces can usually be integrated into existing hot water and hot air heating systems without distribution system upgrades.
Transitioning from fossil fuels to a local wood fuels has a direct and positive impact on your local community. About 78 cents of every dollar spent on wood fuel stays in the local economy, supporting the landowners, foresters, loggers, truckers and manufacturers who steward local forests. In contrast, most of the money spent on fossil fuels flows out of the local economy, often going overseas.
The greatest threat to forests is development. Through the 1990s and 2000s, northern New England and New York lost over 21,000 acres of forests a year.
In contrast, good forest management keeps forests as forests while providing lumber, paper, and other wood products, along with clean air, water, and carbon sequestration. By purchasing wood fuels, you are supporting a forest economy that makes this type of forest management possible. Wood pellets are often made from the sawdust and other residuals from sawmills, making the most of every tree. Wood chips and cordwood are produced from lower-quality trees that are harvested to allow bigger, healthier trees to grow.
The forests of northern New England and New York produce twice as much wood every year as is harvested, making wood fuel a sustainable, local, and renewable choice.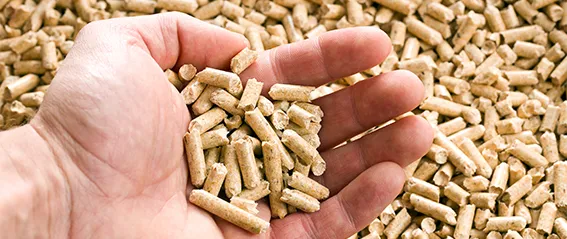 Discover if an automated wood boiler is right for your home or business. What heating system is right for you? How does it work? How can it integrate with your current systems? You've got questions. We have answers.